Planning a destination wedding doesn't have to be stressful. It can be fun.
Imagine this…
It's about 4:00 pm local time and the weather is absolutely perfect.
And by perfect I mean, sun shining, just a few clouds in the sky.
Roughly 80 degrees with the sound of calmly crashing waves in the background. It's just you and your soon to be spouse, looking all done up to the nine's in your gown (or tux) and you're ready to officially get married in paradise.
I've been married before. And in my first marriage, I had to plan the traditional big ass wedding.
Hundreds of guests had to be invited, and I had to take care of six bridesmaids. Not to mention having to deal with dresses, tuxes, food, and family drama.
Originally I just wanted to get married on a beach. But NOOOOO, my first (ex)husband just had to have a big event. I guess I should've taken it as a sign (among many others) it wasn't going to work out.
Ah well, you live and you learn, right?!!
I didn't think I'd get married again, but who am I to give up on love? Nope, I love love. But thankfully I met someone who had also already been married and knew I wanted a destination on a beach somewhere.
Somewhere in the planning process, we decided it would be super convenient to just get married somewhere awesome and then honeymoon immediately after.
It was just my husband and I. We didn't even bring any witnesses, we just used Sandals employees as witnesses.
It was perfection!
Planning a Destination Wedding for Just the Two of You
(or just a few other extra people)
My husband and I were both previously married and had children from previous marriages. So to plan a wedding that would include everybody, would be extremely expensive because we'd have to pay for all 5 of our kids to get and stay there.
If you're anything like we were, then you're probably on a tight budget. Honestly, I wholeheartedly believe the ceremony is just about the two of you anyway. There doesn't need to be a big production.
I personally wanted an intimate setting where it was just the two of us, declaring our love for one another.
When you elope, you have a lot more to spend on the rest of the vacation and you can always do a reception back home (like we did), for the family that wants to celebrate with you.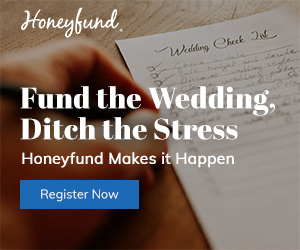 We did set up a wedding website where people could buy us excursions while we were on our weddingmoon. It worked out really nice since we didn't want the traditional newly married type gifts. So we requested either cash or paid-for excursions. Honeyfund is an amazing site (as seen on SharkTank) where you can set up a "Honeymoon" registry site and your guests can donate in the form of funding your dream honeymoon, home down payment or whatever you want to use it for. It's not your traditional boring store registry.
Picking a Destination Wedding Location
I had our location narrowed down to a few locations – Mexico, The Bahamas or Jamaica. Mexico had some different marriage laws and made getting married there a little more difficult. The Bahamas was really expensive and out of our budget range.
Jamaica was perfect. Friendly atmosphere, easy marriage laws (need to be there 48 hours before getting married) and great prices.
Our next job was to pick the resort we would have our wedding. We wanted something that was adults only because we weren't bringing our kids along. I wanted something all-inclusive so we didn't have to worry about anything once we got there. And I mean ANYTHING! Food, room, drinks, or tips! We decided on Sandals South Coast. One of the biggest reasons I decided on this place was because all the rooms were beachfront view! Can't get any better than that!
Booking the Flight
This was my first time flying internationally so I wasn't sure exactly when the right time to book an international flight was. I did some research and signed up for fare alert emails through a few websites. Faredrop is a great program that will notify you when cheap flights are available.
I also found the best time frame to book airfare internationally is about 3-4 months before your planned dates. I'm usually pretty savvy about researching the best fares and I got a pretty decent deal at just under $420 per round-trip ticket.
I booked about 3.5 months out and booked on a Sunday evening – which seemed to yield the best results. Another tip I suggest is that whenever you search for airline prices, do so incognito or in-private browsing so your cookies aren't saved.
You do this so the websites don't pick up that you're searching for flights and keep the prices high every time you search.
Google Airfare is one of the better sites to search for airfare. But the best site I've found to find the cheapest airfare is SkyScanner.com.
Getting to Paradise
The ride from the airport was pretty bad, as expected from reading reviews, but there is no way to get around this. Their roads are barely wide enough for two vehicles and they are pretty run down. The stop in the middle of the drive on the way down I felt was unnecessary and just seemed like an opportunity to "sell" things from that store.
The Resort
We got to the resort and were greeted with cool towels (since it was warm and muggy) and shown to the lobby where we relaxed, got served chilled Champagne and got checked in.
We were escorted to our room and a few minutes later our baggage was delivered to us. The rooms are normal, nothing extravagant, but kept clean. The beds were unfortunately very uncomfortable and we did not sleep well in them at all.
I would suggest getting a walk-out room like we had or the 4th-floor room (for an amazing view).
The resort itself is great. There were several places to eat. Breakfast was mediocre, we usually ate at the buffet style place. For lunch, we mixed it up and ate at a few places, but there wasn't anything that was over the top great about lunch food. Dinner was by far the best food at this resort. Eleanor's was the best by far. Their food was delicious!
If you visit this resort, hit up the martini bar so you can watch Romeo make you a drink. He made me a martini on top of his head then walked around the bar to deliver it to me (while still full and on his head). He was truly entertaining! My favorite drink was the Jamaican Smile, so delicious!
Resort Upsells
Be warned that they are always trying to sell you something at this resort. The spa workers roamed the grounds frequently to try to get you to buy spa treatments, beachside massages, etc.
The photographers were out regularly and took pics of you, which you could buy in the photo store – they didn't harass you too much, but when you go to look at or purchase your pics, they are very spendy.
I thought the souvenirs were pretty decently priced and it was things like suntan lotion, etc. that were overpriced. It's definitely worth bringing your own sunblock and make sure you bring bug spray, you'll need it. They spray pretty well, but after it rains the bugs come out in full force.
Pre-Wedding Prep
Before the ceremony, I went to the spa and had my hair done. They pamper you while you are getting this done with some food and champagne.
I went to my room to finish getting ready and then Trevon showed up to take some pictures of me getting ready.
Ceremony
Let me just say about our wedding, the staff really knows how to take care of you. You meet with a wedding planner the day before your wedding to go over details and get everything set up. Cake, colors, location, etc. You want it, they can probably do it. We got one of the cheaper packages because we wanted to save some money for photos.
Trevon was our videographer who also took pictures of us at the resort the night before our wedding and he ended up being one of our witnesses. He was such a pleasant guy to be around.
The wedding planners at the resort were wonderful to work with and made sure every detail was taken care of on our special day.
For the ceremony, I walked down the sidewalk/aisle towards the beach gazebo where my soon-to-be husband was waiting for me. The music playing in the background was 1,000 Years by Christina Perri but it was an orchestra version. They had a speaker that my phone could sync up to.
We did our own vows. And did a sand ceremony. After that, we sealed our marriage with a kiss and then signed the papers to make it legal.
Reception
After our ceremony, we had our own reception with our first dance, champagne, appetizers, and cake.
As you can probably see in the background some rain was brewing. While we were finishing our appetizers, champagne, and cake it started to pour. Which was pretty common around the late afternoon every day.
Our wedding assistant got an umbrella and got us back to our room dry. We had to wait out the short rainstorm before we could take more pictures. But, I am so glad we got that little rainstorm because we got some pretty amazing shots with a purple sky.
I highly suggest doing a private dinner on the beach if you can afford it. We did it for our wedding night dinner and it was amazing! We felt like we were the only people at the resort! I had steak which was done to perfection and my husband had lamb which was also delicious!
When we got back to our room the staff had done an awesome towel tribute for our wedding night.
By the way, they did these towel things every time they cleaned our room. It was pretty neat to see the different animals they could do.
WeddingMoon and Excursions
The rest of our stay for our destination wedding was absolutely awesome.
We booked a catamaran cruise, which was through a different company than the Sandals resort itself and it was suggested that you bring cash to tip the staff. So keep that in mind when coming to the resort (plan to bring some cash).
Note this is the only time you'd probably have to tip since Sandals is a "no-tip" all-inclusive resort.
Another excursion we did during our weddingmoon was a glass-bottom boat ride. This was booked through the resort which was ok, but it had rained and the water wasn't very clear. So it made it more difficult to really see much underwater wildlife.
I suggest planning activities and booking them through the resort a week ahead of time. You'll need to book them anyway, but they can book up fast and certain activities require a certain amount of people for them to take place.
Plan the activities in the mornings, because if it rains it usually does so in the afternoons.
There were also theme nights at the resort and every night was something different.
They had an entertainment hall where they did a couples game show. That was a lot of fun and you got prizes for winning.
Another night they had a show in the entertainment hall with their steel drum band. They were so amazingly good and you really felt like you were in Jamaica listening to this fun music and watching the amazing dancers.
We are definitely going back to Jamaica for an anniversary celebration at some point, but I'd love to visit a different Sandals resort.
If you're looking to have a destination wedding in the Carribean (or even Jamaica) I highly suggest Sandals. It's all-inclusive and they really know how to take care of you.